I enter students for exams on Acoustic Guitar (RGT), Classical Guitar (RGT/LCM) or Electric Guitar (RGT or Rockschool)
Most beginners will start on the Acoustic Guitar exams.

 
If you click the picture above you will go to RGT's book selling website. You can also buy them in the shops though not all will have them.
These Acoustic books go from Initial and Preliminary through to grade 8, although I normally bypass the first two and go from grade 1.
The tunes are quite nice sounding Folk/Traditional tunes that cover a variety of Acoustic styles and techniques.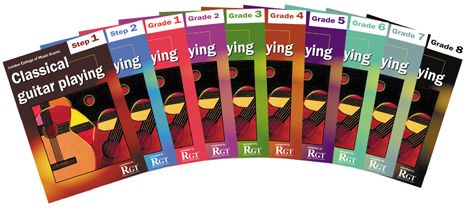 These Classical Grades are very well structured and have some fantastic pieces in them, and provide a nice challenge for the young budding Segovia!
Rockschool exams comprise of learning set pieces which are performed along with a cd backing track. They do cover a good range of electric guitar styles.
These Electric Guitar grades are suited to the improvising guitarist. No pieces to learn as soloing and chart reading skills are the main focus.